Savvy CEO School is a proven 90-day system tested on hundreds of clients in over 18 different service and product based industries worldwide over the past 20 years!
Want a thriving business FULL of clients, hitting your income goals, email list growing, marketing attracting clients/customers and systems in place so you can focus on your passion of helping others?
"I'm loving the program and listening to some of the videos a couple times! It's a great mix of practical, technical and inspirational material I'm very grateful! Many thanks for a great program!" – Savvy CEO School attendee, Stacie H stacieheintze.com
Savvy CEO School shows you how to build a business that is so rock solid you will be thriving while your competition is still swimming in their sea of ideas and lack of action.
What you will walk away with:
Package and price your offerings
Get Clarity Clarity Clarity on everything from how much you charge to marketing to what you do on a daily basis in your business
Effortlessly attract and enroll new customers and ideal clients

Learn how to easily enroll new clients into your programs without being sales-y
Streamline your marketing so it is easy, simple and cost effective

Set up rock solid systems to cut down your time on the business and instead work with more clients doing what you love

Learn how to leverage your business
"The payoff was immediate and the value is astronomical."
– Kevin Oberhausen, Kevin Oberhausen Life Coaching
If it doesn't serve you and help you MAKE MORE MONEY in your business, you won't find it in the Savvy CEO School curriculum…
If you're struggling to grow your business, make money, get clients or you're completely overwhelmed with your daily to-dos, then at least one of your biz systems is missing.
Get our 5 systems set up the RIGHT WAY and watch your business soar!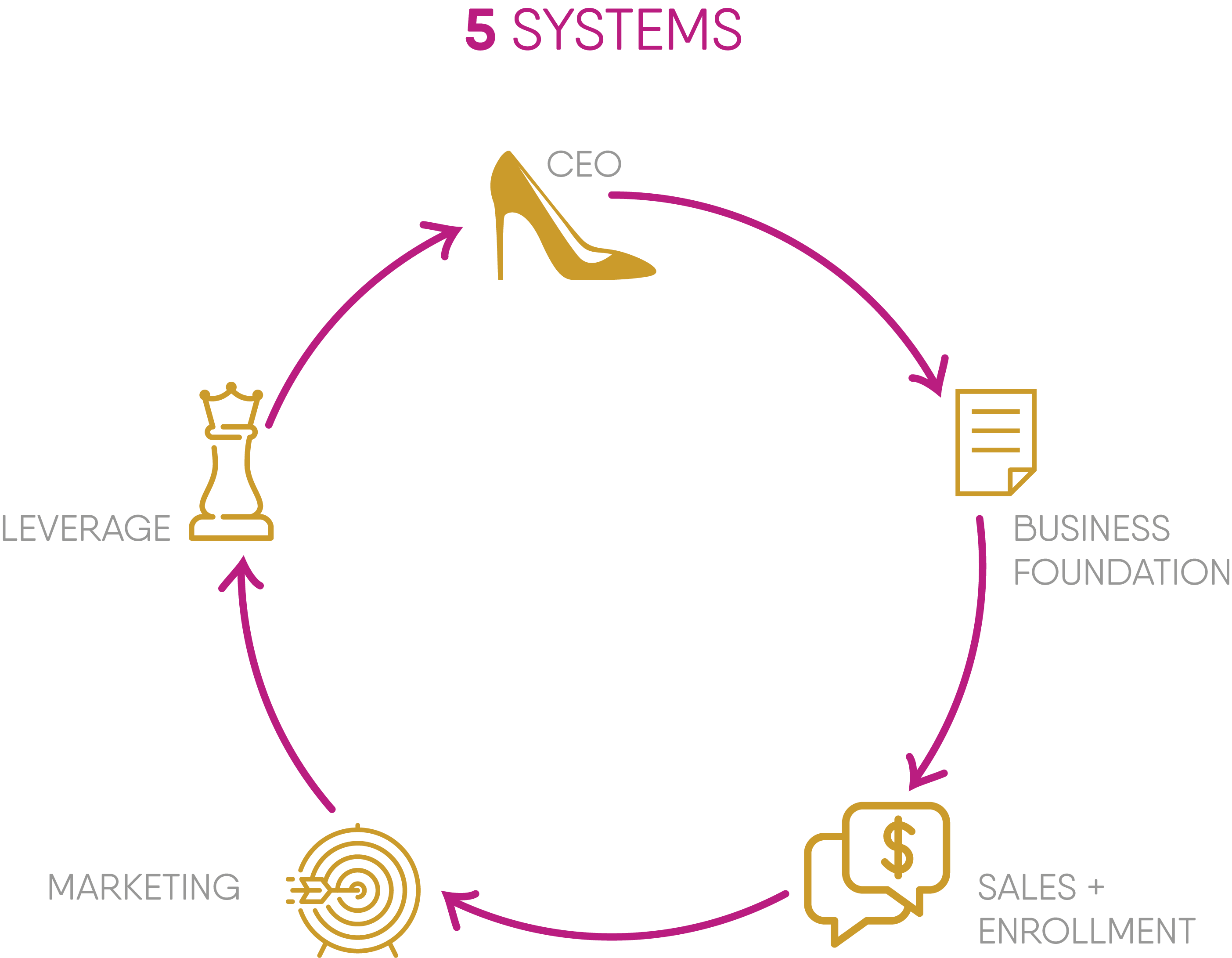 This program is the exact step by step actions we use every single day in our business to generate consistent 6-figures. It is also exactly the program (from the scripts we will share to course material to the amount of time we spend with them in training) that we take our private clients through that pay a minimum of $4500.
Includes:
Simple training videos (we tried to keep them short and easy to consume)
Workbooks, To-Do Lists and Guides
8 Recorded coaching calls
Weekly emails
Enroll now in the Savvy CEO School and get the support you need along with a comprehensive system that will help you grow your business from the ground up, whether you're in the first year of your business or if you've been working it for several years.
Also included:

Bonus #1: Make your Brand Pop Branding Course & Introduction to Facebook Ads with Branding Expert Danielle Murrell
Bonus #2: Mindset starter course for savvy CEO's with 5 time best selling author Ashley Stamatinos
"I cut my work in half! Before Savvy CEO School I was working 16 hour days and now I work 4 hour day. Last year in 2015 between October and December we made $6,200 and this year October to December 2016 during Savvy CEO School we made $25,000.Before Savvy CEO School we didn't know what we were going to do. This program changed our life as we are now able to buy a house and a car. We even just got a dog. If I had done this program when I was just starting out, it would have saved me a lot of headache for sure. I definitely have a clear picture for 2017 and where I am going. I don't have any grey area at all. I am so grateful!
– Aimee Grissmeyer, Princess My Party

FINALLY LOVE YOUR BUSINESS…JUST LIKE YOU DID WHEN YOU FIRST SET OUT TO BUILD A BUSINESS AROUND YOUR PASSION AND PURPOSE!